The Insider's Guide to Getting the Best Credit Card Deals: Part 4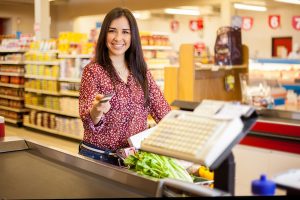 There's a peculiar thing about grocery shopping: going once just never seems to cut it. Any way you slice it, you'll have to go again. Maybe not this week, but definitely the next. It's one of those household chores that never seems to go away. But if it can't go away, maybe you can make it pay.
Many people utilize their credit cards to help earn points or cash back rewards to use for future shopping trips, or even to pay for holiday gifts and other "wants". You can be one of them.
Why Credit?
Credit purchases allow you to easily track your expenses. Purchases made with a credit card carry protection from undelivered goods or services. Calling the credit card company allows them to handle the dispute for you. Plus, you're not responsible for charges made on lost or stolen cards. If you've lost cash, you're out of luck.
The best part? A wise credit card user builds up their credit score, which translates into future savings due to lower interest rates on mortgages, car loans and other big-ticket items.
What Can Go Wrong?
It's easy to overspend with a credit card, leading to mounting debt. Mounting debt can lead to missing payments, and that's where credit card companies stick you with late fees or additional charges.
If you can be a mindful credit card user, you can make the system work to your benefit. We've found a site that helps you find the bonuses for everyday credit card purchases.
Finding the Perks
From cash back bonuses to points and everything in between, Comparecards.com does an outstanding job allowing you to compare different types of rewards programs on credit cards. On the left-hand side of their page, a menu of different types of rewards is displayed. You can click the type you'd like to examine and click to compare different cards from various categories. This allows you to compare cards with a cash back bonus program side-by-side with cards offering points or any other category in which you have an interest. Pick what works best for you.
Comparecards also allows you to further narrow your search through the menu along the top of the page. You can refine your search to include a specific card type or for your level of credit. In addition, this site is fantastic for searching for business cards, as well as for students just beginning to establish a credit history.
Current Deals
Discover Card is currently offering 5% cash back bonus for purchases at restaurants, of gasoline, online with Amazon, and at Sam's Club. These categories change quarterly, and the card holder must re-enroll their card in the program each quarter to earn new rewards. Discover Card cash back bonuses may also be redeemed online for Amazon purchases, as gift cards, other eGift certificates or statement credits. The gift cards often are a great deal with $20 of your cash back rewards earning you a $25 and sometimes a $30 gift card. Discover Card also has the option of allowing you to donate your cash back bonus to charity.
Bank of America Visa is offering an unlimited 1.5 points for each $1 spent plus no annual fees or foreign transaction fees. Best of all, your points do not expire. In addition, if you make $1,000 in purchases in the first 90 days, you can earn 20,000 bonus points. Those points can be converted to a $200 statement credit toward travel purchases.
Chase Freedom is currently offering a Visa with an unlimited 1.5% on every purchase—any amount at any time. Plus, earn a $150 bonus after spending $500 in purchases the first three months after opening an account.
If all this talk of saving has left you wondering what else we have left to cover, just wait—there's more! Next week we'll take a look at how sometimes it's not what you know, it's who you know and how this can bring additional earnings.