Top 5 Websites to Help You Find Work-from-Home Jobs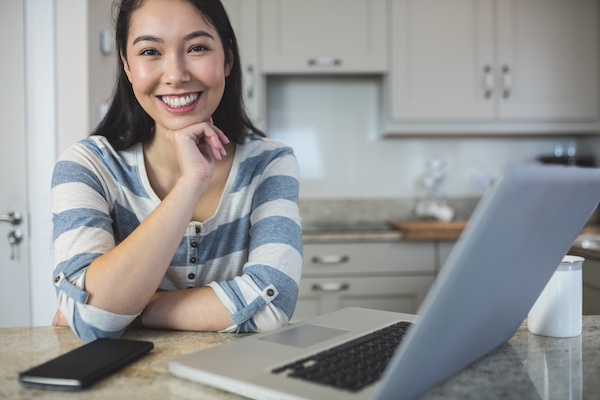 Does working in your pajamas sound like a dream come true? Are there life circumstances that require you to be home, and you'd like to earn some extra cash? Whatever your reason, telecommuting jobs are becoming more and more popular.
In fact, there are several websites that will help you find the perfect "work from home" job whether you need full time employment or a part time side gig.
Here's a look at the top five sites that can help you land a stay at home job.
Forbes recently wrote "FlexJobs.com [is] one of the best job sites out there that allows workers to find flexible schedule positions." For a monthly fee of $14.95, you will get unlimited access to job searches, expert tips and resources, and free skills tests to showcase your skills to potential employers. They currently have 55 different job categories, and in addition to featuring work-from-home positions, they also allow users to search for local jobs that offer flexible work schedules.
Pros: Flexjobs "hand-screens and researches every single company" on their site so you know the jobs you find are legitimate. As of this posting, there where 33,740 jobs available on their website in 55 categories so job seekers have plenty of options.
The website has received a ton of press from news outlets such as the New York Times, CNN, and the Wall Street Journal. It is constantly adding new jobs and opportunities.
Cons: The website's popularity also means that you will face stiff competition when it comes to applying for a job especially the telecommuting jobs. One user who described himself as having 10 years of solid experience as a web developer complained the he applied to over 20 jobs and wasn't interviewed for one.
One other drawback is that some of the job listings can be found elsewhere on the internet meaning you are paying to access jobs that you might have been able to find through your own Google search.
Rat Race Rebellion was started in 1999 with the purpose of helping job seekers find "real work from home jobs." Users can search for jobs for free and also sign up for their newsletter to have job postings emailed to them. They also feature jobs in a wide variety of categories. I found everything from customer service positions to website developers and even a company looking for an attorney to work virtually.
Pros: The team at Rat Race Rebellion carefully screens their job postings to weed out potential scams. Though they do not guarantee any of the job listings.
They feature jobs from major companies such as Hyatt Hotels & Resorts, Nordstrom, and Best Buy. The best part is that you can have legitimate work from home job listings emailed to you for free!
Cons: Again, users applying to jobs found on the Rat Race Rebellion website will be up against a ton of competition. It can take patience and perseverance to land a gig. Another drawback of their website is that it features tons of Google ads which can distract you from the actual content you're looking to find.
HireMyMom.com is a website designed to help moms who are professionals "find flexible, legitimate, home-based work giving them the freedom and flexibility they desire." The cost to sign up as a job seeker is $29.95 per quarter or $99 per year.
Users should review the criteria for job seekers and the types of job postings prior to signing up and paying the initial fee. You can review that information by clicking here.
Pros: If you're a stay at home mom then this website can be very helpful in putting you in touch with an employer who's sensitive to the fact that you are a stay at home mom.
You will set your own hourly rate, and the employer will hire you directly. The job listings are screened before they are posted. It's important to do your own research on a company before applying.
Cons: The quarterly fee is non-refundable so make sure you review the criteria for job seekers listed above.
Also, with a name like hire my mom, it's no surprise that the website is geared towards women. While the company states that they do not restrict anyone from joining, the work-from-home dad's out there may feel more comfortable using a different site.
Upwork.com is the result of a merger between Elance and oDesk. In its own words, Upwork "is a global freelancing platform where businesses and independent professionals connect and collaborate remotely." They offer job listings in several different categories including writing, customer service, marketing, and IT.
It's different from the other websites we've discussed in that you are hired and paid through the Upwork platform. While it's free to sign up and apply for jobs, Upwork charges freelancers up to 20% of their earnings, and they also charge for premium memberships.
Pros: Upwork seems to either be really loved or really hated by its users. I have used the site firsthand. It was easy to sign up, and I found a paid writing job within 24 hours of creating my profile.
There are lots of opportunities as over 100,000 projects are posted on their site each month, but you have to be careful. They also have a review system where freelancers can rate the clients who have hired them and post feedback for other jobseekers.
Cons: Unlike other websites listed, Upwork doesn't screen job listings and several users have complained of scams. I found a great article that talks about how to avoid work from home scams. You can read it here.
Also, the 20% service fee is steep and can really cut into your profit.
Freelancer.com claims to be "world's largest freelancing, outsourcing and crowdsourcing marketplace by number of users and projects." It was actually started in Australia so it's definitely a global website. It is consider a competitor of Upwork.com, and it features freelance work in several categories.
Freelancer.com offers 3 different types of work, which includes fixed price projects, contests, and services. It's free to signup and bid on projects, but they also charge up to a 20% service fee and an additional fee for a premium membership.
Pros: It's easy to use, and as of this posting, it has over 10 million jobs posted. The company has been in business since 2004 and offers work in a wide variety of categories.
Cons: Job listings are not necessarily screened, and several users have complained of scams. I also found several complaints online related to the customer service process and delays in payment. The service fees are also high.
Conclusion
While each of these websites have pros and cons, they can make it possible for job seekers to find legitimate, flexible work from home employment. The competition for these jobs, however, is steep so it's important to be persistent and take steps to avoid scams.
What are your experiences with working from home? We'd love to hear your feedback!